Dynamic Lexus Driving Experience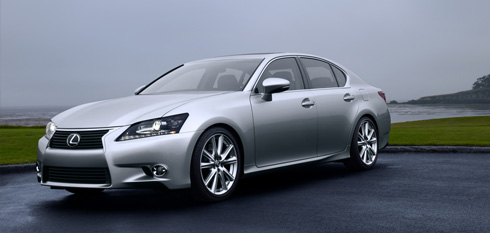 Overview
The GS450h, GS350, and GS250 dramatically redefine theperformance sedan. Powered by either an advanced Full Hybriddrivetrain, or a smooth yet extraordinarily dynamic 3.5-liter or 2.5-literV6 engine, the GS accelerates quickly and is exhilarating to drive.
Handling is precise and engaging, thanks to the advanced chassis andsuspension. Inside, the spacious GS cabin sets fresh benchmarks forcomfort, craftsmanship and advanced technology. This includes anoptional 12.3-inch wide multimedia screen, sophisticated relaxationfeatures for the front seat passenger, and class defining driver support technologies.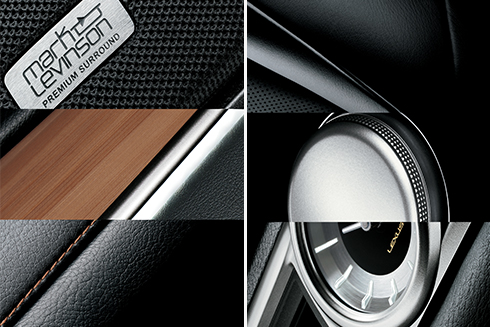 Design
The GS redefines build quality for this class of performance sedan. You will sense it when you first touch the precision-machined, real aluminum audio controls or the beautifullystitched leather. Or stroke the car's gleaming paintwork, which is wet-sanded by handafter each foundation coat (a time-consuming process normally reserved for custom-builtcars), and checked by eye as well as digitally to ensure a perfect finish. The quality of theGS450h's optional bamboo steering wheel was created with the same attention to detail,from its development to the painstaking lamination.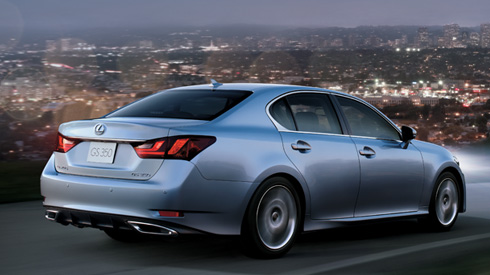 Performance
The GS is fitted with a 3.5-liter or 2.5-liter V6 engine delivering 312HP(GS350)/206HP (GS250) of highly responsive power. Smooth andvery rewarding to drive, this dynamic performance sedan acceleratesquickly up to top speed. Engineered for lightness and strength, the V6offers superb balance and durability, while leading-edge soundengineering creates an excitingly resonant engine note. Meeting strictemissions requirements, the advanced direct-injection system and DualVVT-i (Variable Valve Timing-intelligent) deliver both power andeconomy across the entire driving range. Rear wheel drive and a 8-speed automatic transmission (GS350) featuring paddle shift switches andMulti-mode Automatic Transmission enhance driving pleasure.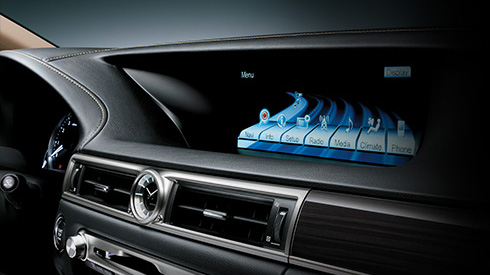 Features
The GS takes display technology to the next level. It is equipped with a large EMV (Electro Multi-Vision) display – a 12.3-inch, full-color LED screen in a wide format(Optional). The screen's size and clarity enable the display of two types ofinformation simultaneously, such as a map and the audio system. The driver andfront seat passenger can interact with the display using the second-generationRemote Touch that moves the pointer on the display screen just like a computermouse. Video from the Parking Assist Monitor (Optional) can also be displayedwhen reversing.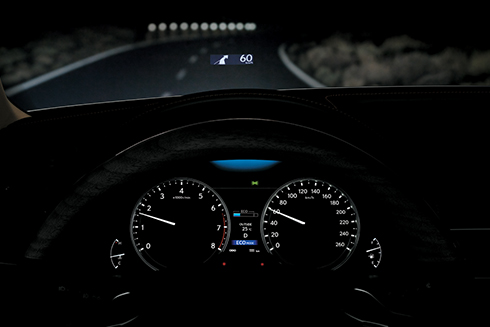 Safety
Vehicle data such as the current speed, engine rpm and gear shift selection is projected directly onto the windshield in the driver's field of view. Simplified navigation commands, audio settings or other selectedvehicle data can also be viewed in the head-up display. (Optional)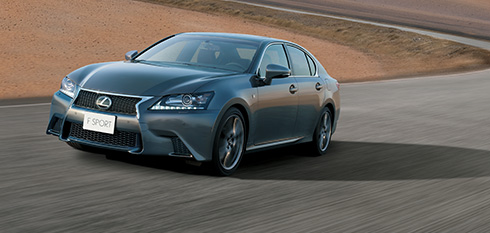 F Sport
The GS F SPORT packages are very dynamic. Witness the aggressive FSPORT front-end styling that integrates upper and lower honeycomb grilles,19-inch alloy wheels, and discrete rear spoiler. Developed at the Nürburgring,Fuji Speedway, and on winding roads around the world, the GS F SPORTpackages offer an incredibly precise and exciting drive thanks to leadingedgetechnologies that includes LDH (Lexus Dynamic Handling system).LDH networks EPS (Electric Power Steering), VGRS (Variable Gear RatioSteering) and DRS (Dynamic Rear Steering). VDIM (Vehicle DynamicsIntegrated Management) manages LDH, AVS (Adaptive VariableSuspension system), VSC (Vehicle Stability Control), acceleration andbraking to provide very smooth yet thrilling performance.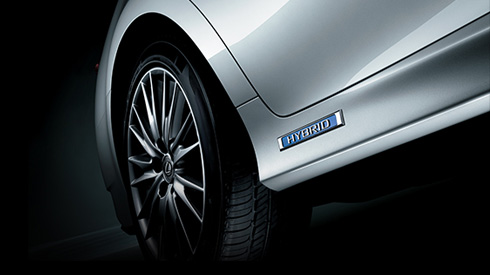 Hybrid
Benefiting from Lexus leadership and innovation in Full Hybrid technology, theGS450h delivers breathtaking performance, thanks to its powerful Lexus HybridDrive. Comprising a 3.5-liter V6 direct-injection Atkinson Cycle engine and ahigh-output electric motor, this intelligent partnership develops a total system outputof 340HP for an exciting drive. Acceleration is smooth and incredibly rapid, yet fuelconsumption and CO2 emissions have been significantly reduced. It also featuresEV (Electric Vehicle)-Drive Mode.