Engine
The 5.0-liter V8 engine generates a dynamic feeling of limitless acceleration for sensational sports car driving, together with the powerful output and excellent response characteristic of a naturally aspirated engine. It integrates advanced VVT-iE for outstanding fuel economy, power and responsiveness. Though it is race ready, the engine's D-4S and Atkinson Cycle contribute to excellent fuel efficiency.1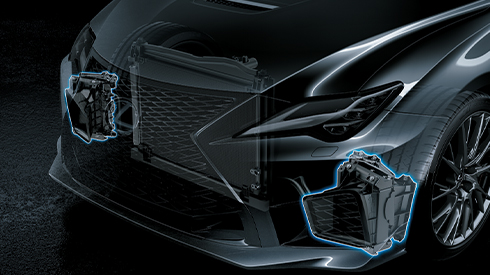 Engine and brake cooling
Brake cooling ducts integrated in the 'spindle grille' are sandwiched on both sides by engine oil coolers. Together with the large radiator grille, they help to simultaneously achieve excellent cooling performance and aerodynamic efficiency.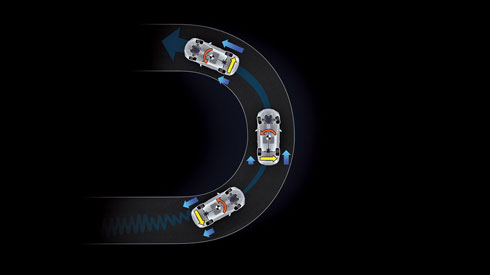 TVD (Torque Vectoring Differential)
For confidence-inspiring "F" driving, even on the race track, the RC F features an innovative TVD. The system efficiently distributes the appropriate amount of torque between the rear wheels regardless of whether the accelerator is depressed or not, to help control the vehicle's orientation while cornering. TVD has three driving modes to choose from to match the driving situation. 'Standard' realizes a refined balance in vehicle behavior between agility and stability while cornering. 'Slalom' emphasizes steering response, to realize the nimbleness of a small vehicle. 'Track' emphasizes consistent stable behavior during high-speed track driving, for accelerating out of corners with confidence.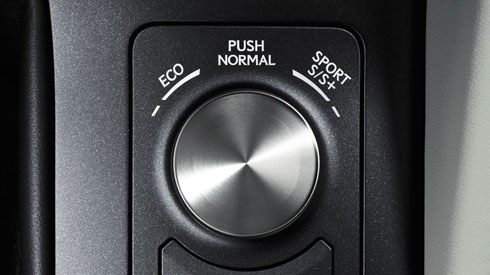 Drive mode select
Drive mode select provides integrated control of multiple systems to let you tune performance to suit your driving style. You can select and change between four modes: Normal, Eco, Sport S, and Sport S+ Modes.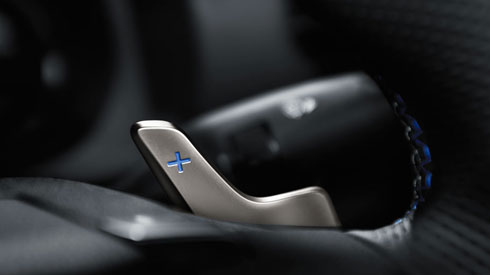 8-Speed SPDS (Sport Direct Shift)
To boost driving pleasure, the advanced 8-Speed SPDS has a dual nature: an 8-speed automatic shifting mode with smooth gear changes for agile driving, and an 8-speed manual shifting mode for all-out sports driving. In D position with Sport S Mode, G AI-SHIFT selects the optimum gear and downshift pattern in response to input from a G force sensor; in Sport S+ Mode the downshifts are even quicker, for dynamic driving on the race track. In M position, it enables gear holding, as well as full lock-up shifting from 2nd through 8th gears.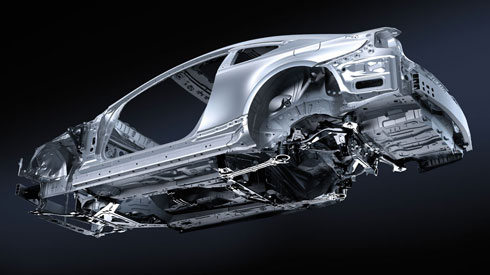 Chassis
The foundation for aggressive "F" sports driving is a lightweight, high-rigidity body structure designed specifically for this race-ready coupe, with large rocker panel cross-sections and strategically positioned braces, including in the floor and engine compartment. The use of innovative production technologies such as laser screw welding, body adhesives, extensive spot welding, and high rigidity glass adhesive, further contributes to the outstanding body rigidity, and excellent handling stability. Together, they realize a fresh level of sports driving performance for Lexus.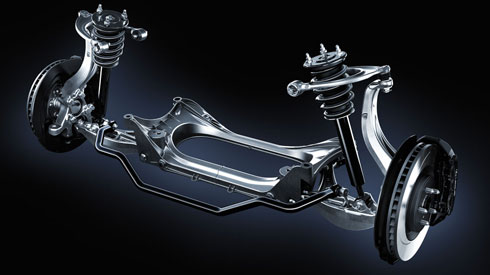 Front and rear suspension
To enable dynamic "F" sports driving, especially when running a series of corners on the race track, the double wishbone front suspension and multi-link rear suspension incorporate components designed exclusively for the RC F. Each component was optimized for rigidity and layout, then honed under demanding conditions on race tracks around the world to ensure excellent steering response for exhilarating driving fun, together with outstanding ride comfort.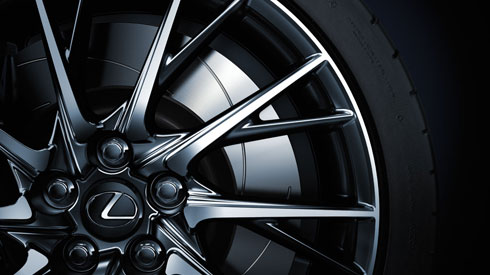 19-inch forged aluminum wheels
The RC F is fitted with large 19-inch forged aluminum wheels that are available in a range of beautiful crafted designs. Advanced technologies were used to help minimize their weight while optimizing rigidity.
Disc brakes
To provide the powerful braking performance and high fade resistance required to race on the track, the large ventilated disc brakes feature integrated monoblock aluminum calipers and high-friction brake pads. With 6 opposed pistons on the front and 4 opposed pistons on the rear, the aluminum calipers contributed to both light weight and rigidity. Slots in the discs help keep the brake pads clean, while spiral fins contribute to the excellent cooling performance. Personalizing the RC F experience, the calipers with "F" emblem are available in black or orange.
Aerodynamics
Careful attention was devoted to aerodynamics to provide the vehicle stability and cooling performance required for "F" sports driving, and help ensure excellent control, especially at high speeds. Numerous design details shape the airflow, including refining the flat underfloor, and strategically positioning aero stabilizing fins on various parts of the body and underbody. Cooling outlets on the top of the hood and in the rear of the front fenders smooth the airflow towards the back of the vehicle, contributing to excellent handling stability.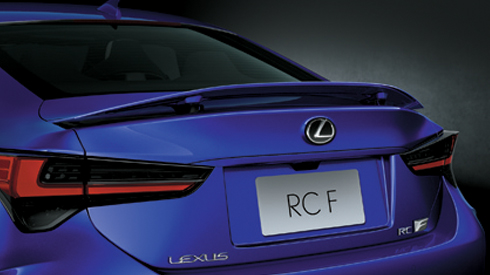 Active rear wing
The retractable rear wing integrated in the trunk lid automatically deploys in response to higher vehicle speeds to provide aerodynamic downforce and a dynamic beauty to the RC F's styling. The driver can also manually operate the wing using a switch on the instrument panel.