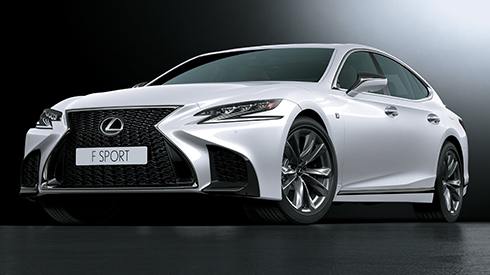 F SPORT spindle grille and side grilles (Mesh type)
The exclusive spindle and side grilles inherit the F SPORT vertical pattern in a meticulous design that combines small L-shaped pieces. The jet-black, chrome-plated garnish on the side grilles wraps around to the side, accentuating the wide, low stance and aggressive presence. It is reinforced by the exclusive color of the 20-inch wheels.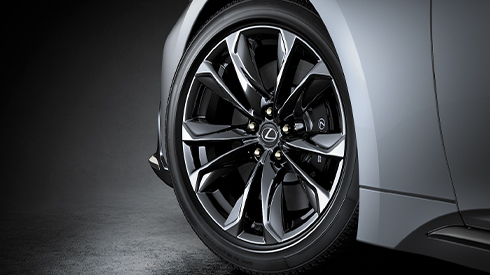 F SPORT aluminum wheels
The F SPORT uses different tyre sizes on the front and rear to provide exceptional handling stability and boost rear tyre grip. The design of the exclusive F SPORT wheels inherits the DNA of the LC, evoking sports driving performance. They are finished in black sputtered coating with a black centre ornament, complementing the jet-black garnish of the lower body. The front wheels are 245/45RF20 and the rear wheels are 275/40RF20 run-flat tyres and F SPORT aluminum wheels.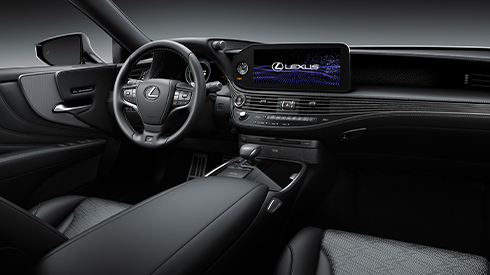 SPORT Leather/ Ultra-suede Sport Seats
Applying expertise gained in motorsports development, the seats incorporate protruding shoulder supports finished with Ultra-suede, a material with high friction resistance to effectively hold the occupant. To enhance ride comfort, the front seats feature a deep-hung cover construction and a redesigned seat pad. The perforated section of the seats features the same L-shaped pattern as the spindle grille.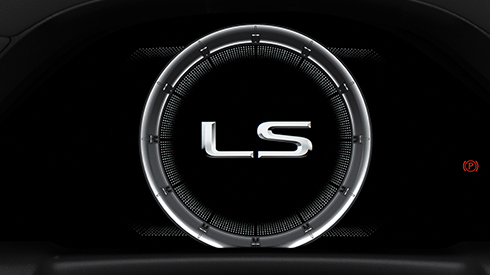 F SPORT TFT (Thin Film Transistor) LCD Meter
The exclusive F SPORT meter evolved from the LFA's sliding meter ring. The advanced interface uses motion graphics that combine high visibility with beauty to display a range of functions that instantly communicate important information according to its priority.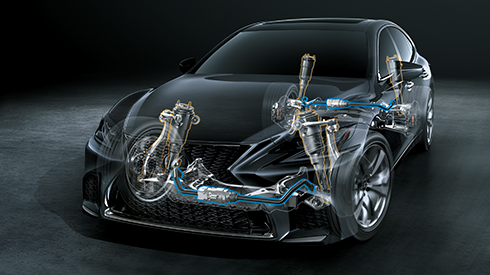 VDIM & LDH
VDIM and LDH help to optimize control of six types of vehicle movement, longitudinal, vertical, lateral, yaw, roll and pitch, by controlling vertical motion using active stabilizers. In normal driving conditions, integrated control of the active stabilizers and LDH suppresses yaw and roll, maintaining intuitive vehicle response, natural roll posture, and a stable posture across a wide range of speeds. At the limits, the integrated control extends to the active stabilizers and other systems to help assist confident and comfortable driving. In Sport S+ Mode, the system delivers pleasant vehicle response, confidence-inspiring vehicle posture and a comfortable ride. In Comfort Mode, it enhances ride comfort in the rear seats.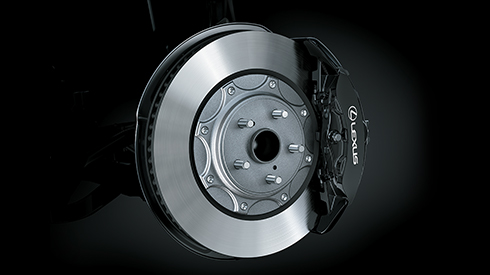 F SPORT brakes
Exclusive F SPORT brakes featuring the Lexus logo consistently deliver stable braking performance to enable aggressive sporty driving. The combination of opposed 6-piston monoblock aluminum calipers on the front, opposed 4-piston monoblock aluminum calipers on the rear, and high-friction brake pads contributes to high rigidity and excellent fade resistance. Large, 2-piece disc rotors on the front provide stable braking while limiting thermal deformation, and contribute to reducing unsprung weight.