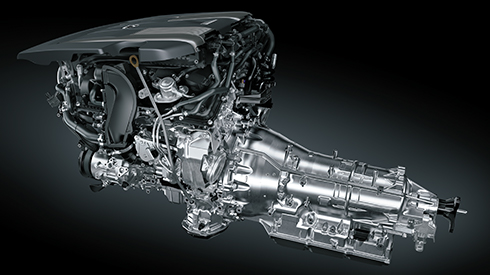 3.5-litre V6 twin turbocharged engine
Developed exclusively for Lexus, the core engine platform was redesigned and high-speed combustion technology and a high-efficiency turbocharger utilized to deliver exceptional power output together with outstanding fuel efficiency. The engine generates maximum torque starting at low rpms, providing powerful acceleration whenever the accelerator is depressed. Paired with the Direct Shift-10AT, the rhythmic shifting and direct response boost driving pleasure.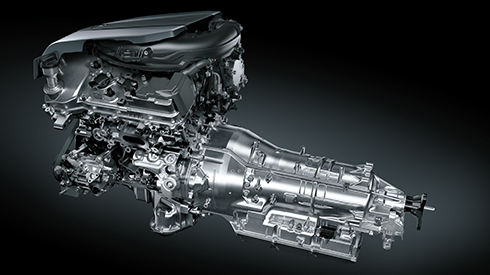 3.5-litre V6 engine
Delivering a sophisticated blend of power and environment-friendly performance, Dual VVT-i (Intake side: VVT-iW) contributes to high torque across the rpm range, with lightweight roller rocker arms and a low-friction timing chain enhancing high-revving performance. TheStop & Start System complements the D-4S fuel injection system to further enhance fuel efficiency.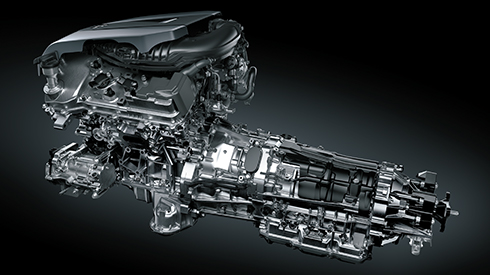 3.5-litre V6 hybrid engine
The hybrid system's V6 engine integrates advanced technologies that include Dual VVT-i (Intake side: VVT-iW) and D-4S fuel injection system. Lightweight components further contribute to both powerful driving and outstanding environmental performance. A focus on reducing friction losses in the engine helps boost peak output revolutions from 6000 to 6600rpm.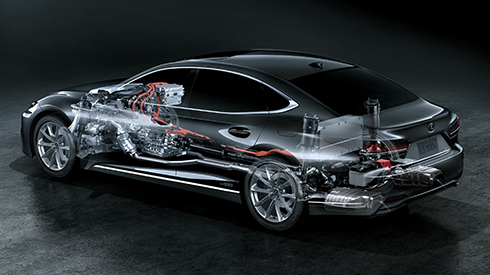 Multi Stage Hybrid System
The Multi Stage Hybrid System's 10-speed shift control provides a direct acceleration feel that follows the increase in engine rpms, together with excellent shifting rhythm. The Multi Stage Shift Device varies the combined output of the engine and motor, amplifying engine torque and increasing drive force by 24%. It utilizes engine speed in a wide range from low to high speeds, harnessing maximum engine output from 50km/h, as well as enabling high-speed driving at lower engine rpms for a quiet ride.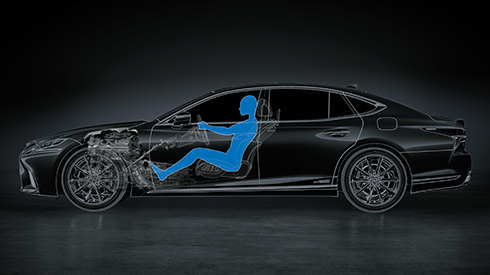 FR (Front engine, Rear wheel drive) platform
The LS takes advantage of the FR platform that Lexus refined for the LC to optimize front-to-rear weight distribution and the moment of inertia. The result is natural, smooth vehicle dynamics when cornering, accelerating and decelerating. The adoption of a low driving position and a layout that keeps the driver's hip point and the vehicle's center of gravity close together minimizes the distance between the driver and the axis of rotation, heightening the driver's feeling of oneness with the car. In this way, the packaging meticulously refines the inertia characteristics to deliver excellent response along with smooth, stable changes in posture during the sequence of movements involved in cornering.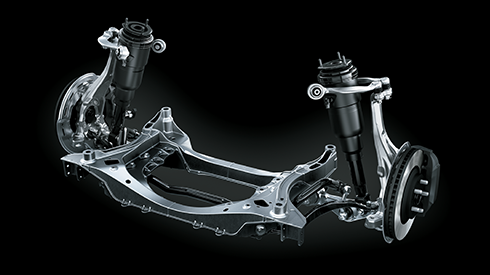 Suspension
To realize high-quality driving and ride comfort befitting the Lexus flagship, the AVS damping force, stabilizer spring rate, and vertical spring of the wheels were fine-tuned to effectively suppress shock and vibration, providing high-quality ride comfort and exceptional quietness, as well as realizing excellent steering response and stable vehicle posture.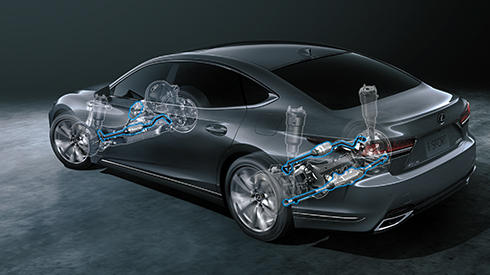 VDIM (With integrated active steering control) + LDH
VDIM integrates control of engine, braking, steering and other functionality, including the EPS and LDH which controls the steering angle of the front and rear wheels, as a single system, to provide a high level of active safety together with driving pleasure. LDH optimizes the steering angle of all four wheels based on factors such as vehicle speed and steering inputs, to realize ideal vehicle dynamics for the driver's operation. The result is excellent vehicle stability during high-speed driving and nimble steering response in mid-speed driving on surfaces such as mountain roads.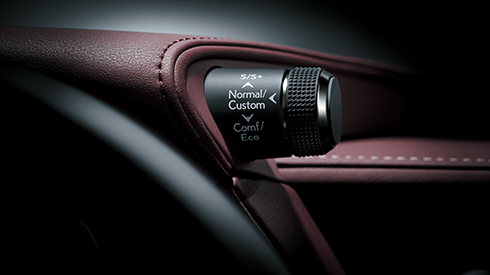 Drive mode select
Drive mode select provides integrated control of multiple systems to let you tune performance to suit your driving style. You can select and change between five modes: Normal, Eco, Comfort, Sport S and Sport S+ Modes. In addition, Custom Mode enables drivers to set their preferred settings for the powertrain, chassis and air conditioning.